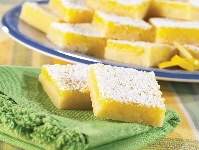 Prep Time: 20 minutes
Cook Time: 35 minutes
Chill Time: 20 minutes
Yield: 16 bars

CRUST:
1 cup flour
1/3 cup ArgoŽ Corn Starch
1/2 cup powdered sugar
1/2 cup butter OR margarine, softened
FILLING:
3/4 cup sugar
2 eggs
1 tablespoon ArgoŽ Corn Starch
1/4 teaspoon ArgoŽ Baking Powder
3 tablespoons lemon juice
Additional powdered sugar for topping

Preheat oven to 350°F.



To Make CRUST: Combine all crust ingredients in a bowl until well mixed and crumbly. Press into bottom of an ungreased 8 x 8-inch pan.



Bake 15 to 20 minutes or until edges are lightly browned.



To Make FILLING: Mix all filling electric mixer or wire whisk until well blended.



Pour filling over hot crust. Return to oven and continue baking for 18 to 20 minutes or until filling is just set.



Cool completely before cutting into bars. Sprinkle with powdered sugar.